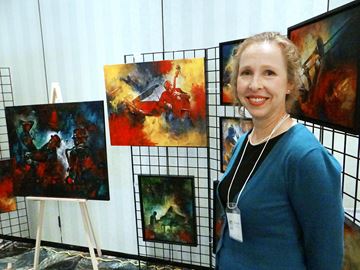 A shot of me with my music paintings from
last year's show. I made the local paper twice
last year

.

I was one of the few

newbies
exhibiting...

this year there are a whole lot more.


Photo credit:

Graeme Frisque, Mississauga News
Port Credit's annual art fair,
Arts on the Credit
, is a mere two weeks away. It is held in the ballroom of the lovely Waterside Inn, a beautiful, boutique hotel on the shores of Lake Ontario, across from the Port Credit Yacht Club. The show has expanded this year... almost double the size of previous years. I've been reading
their blog
faithfully to see what exciting new art awaits. Hopefully I will have a bit of time to wander around and take it all in, but if last year is any indication, it will happen either during set up or while everyone is packing up to go... visitors were waiting to get in as soon as the doors opened, and it was constantly busy for the entire two days.
Last year was my first time doing one of these big, indoor shows. I have done outdoor shows before, and I've had openings at the galleries I've shown in, but this kind of thing had a really different vibe. I learned a lot, and this year I'm much better prepared. I know how I'm going to set up my booth, and I have everything I need organized and already packed up. I have proper lights, and a power bar that works (I didn't test mine in advance last year, and when I got there, I realized I had bought a lemon. The batteries in my camera died in the first half hour. And oh my god, what the hell was I thinking wearing HEELS?!?!?!). One thing I really enjoyed was talking to people and getting to see their reaction to my work first-hand. This year I have a whole new abstract series to show, and this will be the first time it will be shown in public. It's exciting and scary at the same time.
Here are a few of the artists I'm excited to be exhibiting with... I haven't seen all their work in person yet, but the photos look fantastic.
Elysia Prokopetz
Elysia is part of my local art goup, and I've purchased some of her glass work to give as gifts. Lots of beautiful, unique and really interesting pieces. I would love to have a piece of my own, but I'm such a klutz I hesitate...
Check out more photos over on her
website
.
Nicole Kegan
Nicole does these wonderful abstracted landscapes that completely draw you in. Can't wait to see them in person. I'm sure these are the kind of pieces that look good in photos, but look a hundred times better in real life.
Visit her website for more information.
Fernando Resendes
I think I like Fernando's work more every time I see it. He's very active in the Toronto area, showing all over the place. Not surprising, given the originality of his photography work. Many of his images are printed on unusual substrates, like wood and metal. It really adds something to the mystery of the images. According to the blog, he will be debuting a new series at this show. Can't wait. His website is here:
www.fmprints.com
Peter and David Marcucci
One works in wood and the other in glass, and they combine to make these amazing one of a kind pieces. I was told by the organizers they were going to be right beside me. (!!!) I should have some time to get a close up look.
There are many more artists that are going to be showing. Arts on the Credit runs April 11-12, from 11am - 5pm. For more info, visit the
website
. In the meantime, if you happen to be wandering around in Port Credit, there will be work from exhibiting artists on display in many of the local business. By next week I'll have a couple things hanging in
My Olive
... coincidentally, one of my favourite shops in the area. I'll take pictures. Follow my
Facebook
page,
twitter
,
instagram
or
G+
for updates!
Oh, and just in case you are planning to go, here is a complimentary ticket.